28. February 2020 | 官方发布
DPD China Takes Action Amid Coronavirus Outbreak
The beginning of 2020 witnessed the unexpected outbreak of the coronavirus (formally known as COVID-19) in Wuhan that threatens to turn into a global epidemic. To prevent the disease from spreading further, all provinces and cities in China have adopted strict quarantine and control measures. Many of these measures, especially transport bans, have severely impeded and disrupted international logistics and export businesses. In order to protect the interests of our franchisees and customers, and to minimize the losses caused by the epidemic, DPD China responded quickly and took immediate action.
Coronavirus has taken a heavy toll on airlines and gateways; many have decided to suspend flights to and from China, plummeting air freight capacity. DPD China's CGO (Zhengzhou) Gateway has played a unique role as the only transfer center in China in these difficult times. The CGO gateway not only undertook the transferring of OBC shipments, but also the transportation of mail and general cargo. During Chinese New Year alone, more than 150 tons of postal cargo were shipped successfully. Our CGO site and the air freight department did a lot of preparatory work, including but not limited to coordinating air cargo space, customs declaration, customs inspection, cargo terminal operations, and so on. Our on-site operators and back-office support staff are very dedicated to their tasks and bear great risks. Even during Chinese New Year when the epidemic broke out, our CGO Station never stopped operating for a day. At the same time, we have also made arduous efforts in ensuring a safe work environment for our staff members, including coordinating relevant institutions, providing various certificates, and setting up protective measures.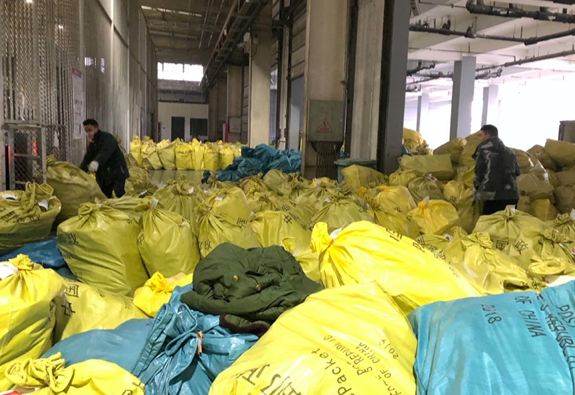 2020年除夕郑州口岸操作人员正在有条不紊地工作中 (477 KB)
Our CGO Gateway staff working methodically on Chinese New Year's Eve, 2020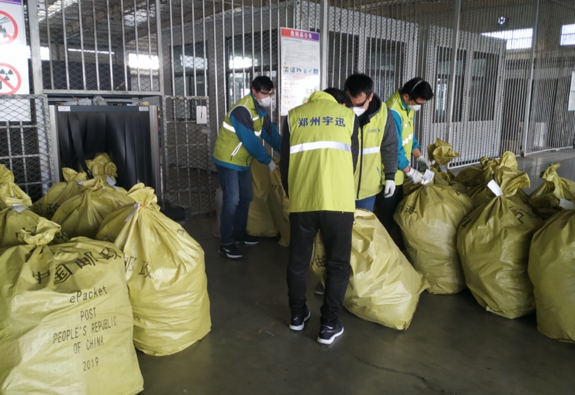 Our OP staff members busy sorting mailbags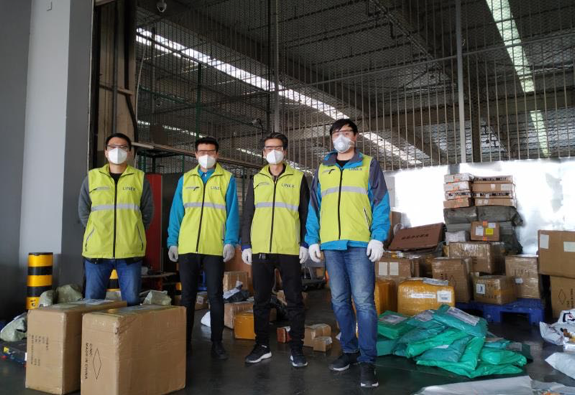 从左至右:王浩勇、刘亚伟(邮件操作)、王浩然、胡向阳(OBC操作) (436 KB)
From left to right: Mr. Hao-Yong Wang, Mr. Ya-Wei Liu (postal operations), Mr. Hao-Ran Wang, and Mr. Xiang-Yang Hu (OBC operations)
Under the leadership of DPD China's headquarters, our air freight, sales, customer service and IT department will do their best to coordinate resources and cooperate with the CGO gateway in terms of arranging cargo space, communicating with customers to ensure data transmission accuracy, and provide other professional support.
We have not forgotten our social responsibilities as an enterprise. After the outbreak, our CTU (Chengdu) Gateway in China successfully imported a batch of medical masks from Indonesia to Chongqing's Dianjiang County Hospital, receiving unanimous praise from the locals. Faced with one of the biggest public health calamities of our time, we shall rely on our advantages in the import and export business and make every effort to provide imported medical supplies, contributing to the fight against COVID-19.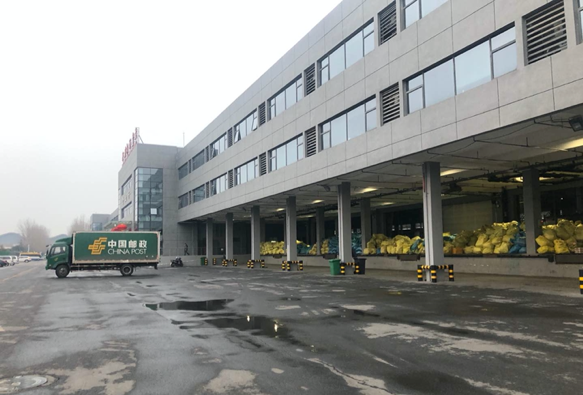 CGO Gateway Warehouse on the 2nd day of Chinese New Year
Due to strong leadership and effective actions taken by local governments, the epidemic was gradually brought under control. It is expected that starting from the end of February to March, society will slowly but surely get back on track. In addition to the CGO gateway, DPD China's BJS (Beijing) Gateway will gradually resume normal operations starting from the end of February. DPD China's operations in Northern China can be undertaken by the BJS Gateway, diverting pressure from the CGO Gateway. Several companies in Southern China have also resumed business; our SZX and CAN Gateways will spare no effort to maintain the daily operations of shipments and find alternative solutions.
Spring 2020 will certainly be remembered for years to come. Although we have experienced great difficulties and challenges at the beginning of this year, we believe that the epidemic will eventually dissipate, and DPD China will continue to take action. Strength comes from overcoming challenges, and victory will ultimately belong to everyone.