12. January 2023 | DPD News
DPD China and Hainan Airline signed full strategic cooperation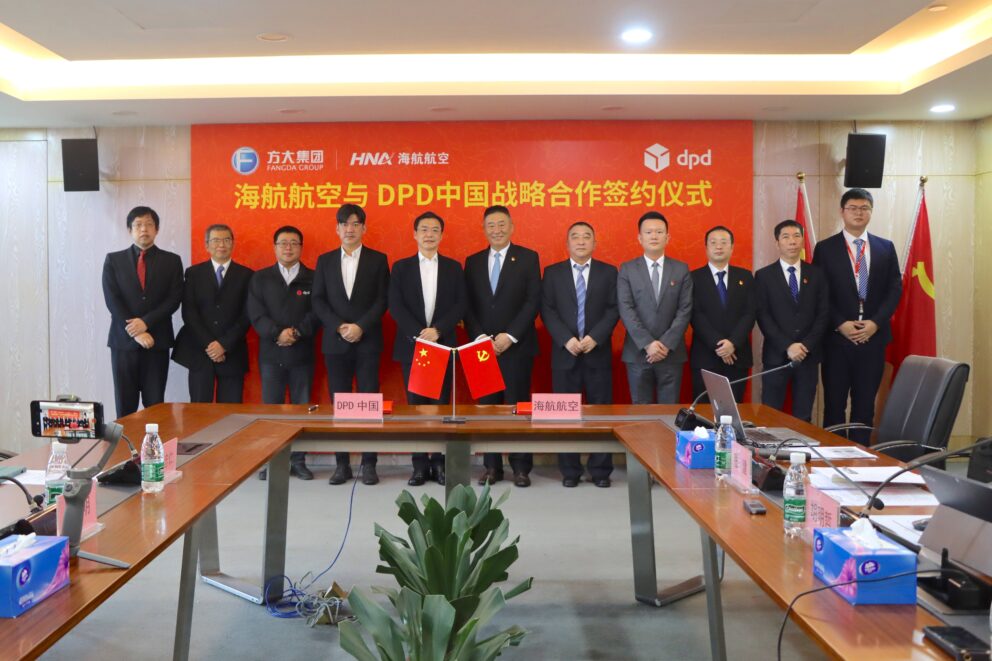 On the morning of January 10th, HNA Aviation Group Co., Ltd. and DPD (China) held the signing ceremony of the comprehensive strategic cooperation agreement in the New HNA Building in Haikou, both parties have in-depth discussions on the future direction of cooperation between the two sides. Hu Mingbo, vice president of HNA Airlines Group, Chang Hai, chairman of HNA Cargo, Hu Mingzhe, president of HNA Freight Group, Zhu Chunlin, chairman of Greater China Region of DPD group, Su Junming, general manager of DPD China attended the signing ceremony.
DPD (China) is deeply engaged in postal, freight, international logistics, European last mile distribution network and other businesses, control the last mile terminal pickup  network in Europe, 11,000 outlets can provide logistics services throughout Europe, which is the largest European parcel delivery network. Now DPD integration of strong customs clearance delivery resources, march into Asia. Stable aviation capacity support and port operation experience, as well as professional terminal delivery service, together to create a strong and reliable brand influence of DPD Group.
HNA Aviation Group Co., Ltd., controlled by Liaoning Fangda Group, covers the whole business system operation mode of air passenger transport, air cargo, general aviation and supporting industry. HNA and its subsidiary operating nearly 1800 domestic and foreign flight routes, network radiation, business scope covers international and domestic cargo transportation business, aviation ground services, cross-border electricity services, integrated logistics services, etc., aspire to build network that capable to "Reach everywhere, deliver everything". Aim to become world renowned airline logistics service provider.
DPD (China) and HNA have signed a comprehensive strategic cooperation agreement with HNA to operate the direct cargo charter flight for the "Haikou = Paris"
In the future, in the torrent of rapid changes in the global industry, DPD (China) will complement each other with HNA Group and achieve win-win cooperation, Jointly build a convenient "air corridor" for international trade, promote the safe and stable development of industrial and supply chains, to contribute to the construction of a civil aviation power in the new era and the construction of Hainan free trade port.