13. December 2021 | CSR news
Green delivery in Sint-Niklaas city centre with DPD cargo bike
To consumers, sustainability becomes an increasingly important topic. 70% of European e-shoppers* think business and brands have to operate sustainably. Of course, as a transport company, we are fully aware we are part of the 'problem'. That is why we really put ourselves out to as much as possible offer green delivery alternatives; one of those being the new cargo bike in Sint-Niklaas.
Cargo bike replaces traditional delivery van
Complementary to city depots, our vast Pickup network and electric delivery vans, we recently added an electric cargo bike to our delivery fleet. Our bike has a 60 km action radius and can deliver 30 to 60 parcels in the city centre of Sint-Niklaas. By doing so, the bike replaces a complete delivery round of one traditional van, equalling 30 to 40 kilometres less on a daily basis, or a decrease by 10,944 g of CO2 emissions daily.    
The cargo bike is a collaboration between DPD and subcontractor N.A.L Group.
The main advantage I notice since I deliver parcels by electric cargo bike, is that I feel less stressed. I just know I cannot get stuck in traffic jams or will not be juggling road diversions to get to the city centre. I literally stop on the doorstep of each client, so no more logging around parcels either.

Moreover, I do get quite a bit of passers-by who notice me and you can really see how they appreciate this initiative. I feel really proud to be part of this ecological project. Let's hope even more projects like this will attract the interest and investments they deserve.

Finally, I continuously am on the move, so actually I work out while on the job and contribute to the environment at the same time (laughs)."  

Driver Ibrahim
A dense Pickup network
Apart from deploying low emission vehicles, also the DPD Pickup network a greener delivery method. Delivery at Pickup parcelshops increases our efficiency, hence lowers CO2 transport emissions by 21% compared to traditional delivery at home. If subsequently the parcel is picked up by someone on foot or by bike, the green contribution becomes even bigger. Click here for a map of Pickup points in Sint-Niklaas.
Electric deliveries in 225 European cities by 2025
DPD Belgium is a subsidiary of DPDgroup, the largest parcel delivery network in Europe. Each day our group pops up in the lives of millions of people. This is what drives us to become the most ecological parcel service company. Wherever we live in the world, in the end, we all share the same address. By 2025, as a group we will deliver using zero or low emission vehicles in at least 225 cities in Europe.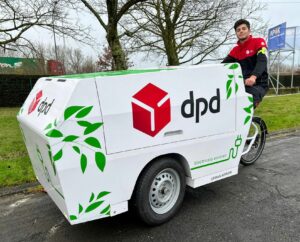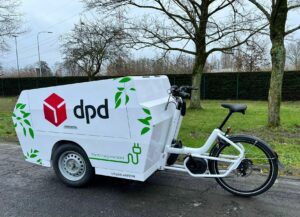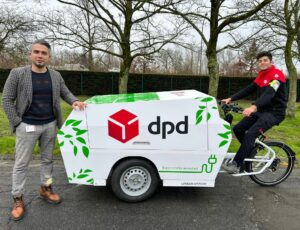 ---