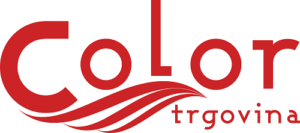 Color trgovina d.o.o. is a Croatian chain store of the "everything for the home" range, which has been operating on the domestic market for over 30 years.
Many years of work, dedication and perseverance of employees along with a clear vision of the owner have brought Color trgovina today to the position of regional trade leader in sales and distribution of "everything for the home" range; garden and metallurgical, electrical, construction and professional technical products, audio and video equipment, IT equipment and white goods.
With more than 35,000 different items, on a total area of 40,000 square meters in 4 shopping centers, Color trgovina ensures that the needs of both retail and wholesale customers are met.
Educated and quality sellers will provide the best possible professional service in the selection and advice when shopping in our centers.