16. November 2021 | Press news
DPD – the leader of digital innovations introduces a new service: a chatbot based on artificial intelligence
Zagreb | November 2021. | DPD Croatia always brings novelties in delivery, and the latest of them is the chatbot – Gita. Anyone receiving parcels via DPD now has an additional communication channel: recipients can ask Gita, a chatbot controlled by artificial intelligence, about the status of their shipments. The service is integrated on the DPD Croatia website and can be used on both computers and mobile devices.
DPD Croatia is constantly working to improve the user experience and strives to offer solutions that will make parcel delivery as easy as possible. Given the upcoming peak season when parcel volumes in DPD network reach their maximum, we decided to develop a unique way of communication that will save users time - no more waiting for an agent to respond.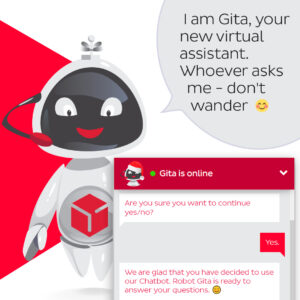 If someone asks a question that Gita is currently unable to answer, the end user will not be left without support. In such cases, the DPD chatbot will automatically provide a link or contact option through which a free customer support agent can be reached. With all the above, Gita responds extremely quickly to user inquiries and is available 24/7. It can manage thousands of users simultaneously, while providing maximum customer satisfaction, and does so through automated repetitive tasks. It is also able to remember information in conversations with users and never forget it. That's why Gita is a personalized assistant for every user!
"Our chatbot Gita is an additional channel that our recipients can use to quickly and directly find out where their parcels are located. In the future, the service will certainly be extended to additional functions, such as intelligent speech recognition. So, Gita will be able to understand what the user wants to know and provide instant help. With Gita, we embark on a journey during which new functionalities for senders and recipients will be added one after the other" – Emin Bajraktari, Head of the Call center DPD Croatia.
The use of chatbots is not mandatory for senders and recipients. All existing contact options are, of course, still available: from personal telephone support, support via e-mail to inquiries via social networks (Facebook, Instagram, LinkedIn).
DIGITAL SERVICE: simple and fast
To provide recipients with maximum flexibility, DPD Croatia digital services are designed to achieve the desired result quickly and easily. We proudly highlight the Predict service that predicts delivery with accuracy within one hour. In addition, recipients can use live tracking that supports location tracking so they can see the courier's distance accurately. Thanks to maximum transparency, recipients can accurately assess whether they will be at home at the time of an upcoming delivery attempt. In case they will not be able to meet it, or something comes up, they can simply postpone delivery or choose an alternative delivery option – Pickup locations, DPD Direct4.me parcel lockers, a safe place of their choice, DPD depots or urban City depot in Zagreb.
We continuously continue to work on the development and improvement of our services to enable customers to deliver as easily and quickly as possible.
Contact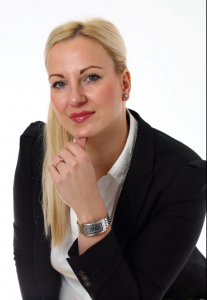 Snježana Stanić
Regional Head of Marketing and Communications at DPD Croatia and DPD Slovenia
DPD in Croatia
DPD Croatia is part of DPDgroup, the second-largest parcel delivery network in Europe. With 97,000 delivery professionals and a Pickup network with more than 58,000 parcel pick-up locations, DPDgroup delivers 7.5 million parcels daily - 1.9 billion parcels per year - through the DPD, Chronopost, SEUR and BRT brands. DPD started operating in Croatia in 2003. In 18 years of existence in the domestic market, it has become one of the key players and expert in the domestic market, providing a high-quality parcel delivery service. DPD operates on a day-to-day basis on behalf of thousands of satisfied customers and combines innovative technology and local knowledge to provide a flexible and user-friendly service for both shippers and consignees. With its flagship Predict service, myDPD app, and Pickup locations, DPD sets a new standard for convenience by keeping customers closely connected to the delivery of their parcels.
---