9. December 2020 | Innovations
DPD is expanding its Pickup locations
Investing in development and our services is a goal that guides us all the years and ensures us transparent and good business. Thus, we also increased the capacity of the delivery network this year. In total, we have 5 depots in Slovenia, and the expansion of current capacities is currently underway in Maribor depot. The vision of expanding our capacity and expanding the distribution network remains, all with the aim of making it as easy and accessible as possible for our customers to pick up their parcels.
However, as we have recently witnessed increasing volumes of parcels, and in order to simplify the entire delivery process and bring our services even closer to our customers, DPDgroup is focusing on digital processes and application development for end-users. With the myDPD application, there are no more missed parcels. What is special about this application is that it allows consignees to easily view and manage all incoming parcels. The consignees now have the opportunity to determine when and where he wants to pick up his parcel and easily selects the desired delivery options with a few clicks.
With our redirection options, you can easily change the place of delivery to one of the many Pickup locations throughout Slovenia. For this purpose, we expand or. we are expanding our Pickup network.
We would like to inform you that we have increased the number of our Pickup locations by an additional 297.
So far, we had 347 Pickup locations and now we have 644 Pickup locations:
Petrol: 335
Petrol Hop In: 7
OMV: 83
MOL: 46
3DVA traffic: 168
DPD depot: 5
Soon,  pickup up of the parcel will become even easier. We will upgrade our Pickup locations with approximately 450 parcel lockers with the partner company direct4.me, which will be available to you at more than 100 locations throughout Slovenia.
At DPD Slovenija, we strive to be the best, as we are always looking for ways to deliver parcels quickly, easily and as flexibly as possible. Timely and easy delivery of the parcels to the consignees is of great importance to us.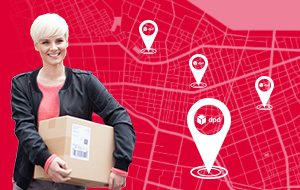 DPD Slovenia
DPD in Slovenia is part of DPDgroup (GeoPost), the largest international parcel distribution network in Europe. DPD, Chronopost, SEUR and BRT are the delivery experts coming together as DPDgroup. Group has 75.000 members, and a strong international network enables us to efficiently exchange experiences and knowledge. DPDgroup combines innovative technologies and local experience to deliver the most convenient and efficient delivery solutions to both senders and recipients. DPDgroup delivers more than 5.3 million parcels a day in more than 230 countries. Sending and receiving parcels is extremely easy, wherever our customers are.