8. December 2021 | Press news
DPD Slovenia opened the first City Depot in Slovenia
Ljubljana, December 2021 – DPD Slovenija, an innovator in the field of green delivery, opened its first City Depot in the centre of Ljubljana, at Gosposvetska 1. The new city depot pursues the goals of sustainable city delivery: to get as close as possible to recipients and senders of packages and thus reduce CO2 emissions. In this way, DPD Slovenija also prepared for the increased volume of shipments during the holidays, in addition to expanding the depot network, they also adjusted their business and operational processes.
Depots in the centres of major European cities are part of DPD's commitment to developing sustainable urban logistics solutions. Igor Jakovljević, director of DPD Slovenia, said at the opening: "DPD is developing sustainable urban logistics solutions, such as urban micro depots, which enable us to be closer to the recipients and senders of packages. We use sustainable delivery methods, such as environmentally friendly vehicles, bicycles, and delivery on foot. Thus, DPD is effectively tackling the challenge of modern times, the phenomenon of e-commerce, which has led to a significant increase in the number of packages in urban centres, where we are also facing increasingly stringent traffic regulations and restrictions. "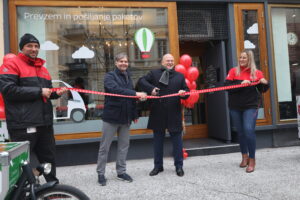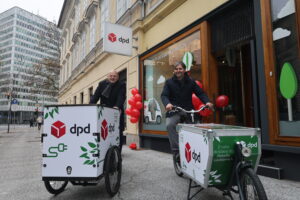 DPDgroup's vision by 2025 envisages delivering packages in more than 225 major European cities in 20 countries exclusively with no-emission or very low-emission vehicles, thus providing "green delivery" to 80 million people. To get even closer to customers, they plan to deploy 7,000 alternative vans across Europe and open 80 new city depots.
"In accordance with these goals, we opened the first city depot in Slovenia. DPD City Depot is in the very centre of Ljubljana, which is why we are practically neighbours to our customers." said Jakob Bertole, Business Director at DPD Slovenia. He added: "We are aware of our responsibility to the environment and our children, so we want to be the most sustainable delivery company in Europe. We have decided to contribute to the reduction of harmful emissions in the largest cities. With our DPD delivery, we are thus contributing to a cleaner Ljubljana."
The key to achieving sustainable urban mobility is the phasing out of motor vans, the introduction of bicycles and the opening of urban depots - bringing services closer to end-users in urban centres.
Now private or business recipients from the centre of Ljubljana can redirect their packages to the new City Depot with the help of the myDPD application and pick them up when it suits them best. They can also send packages from DPD City Depot in Slovenia, Europe, and all over the world. There is also a unique novelty in the new premises, which allows even greater flexibility in receiving packages: a dressing room, where customers can try on ordered clothes or shoes and return them immediately if they do not suit them.
DPD City Depot is open Monday through Friday from 8 a.m. to 8 p.m., and Saturday from 8 a.m. to 1 p.m. Based on the experience from previous years, an increased volume of shipments is expected during the holidays this year as well. For all packages to arrive at their destination safely and on time, they have adjusted their business and operational processes and upgraded and expanded their depot network.
DPDgroup's long-term goal: green delivery
"The pursuit of green delivery is a long-term goal of DPDgroup. Our goal is to become a chosen partner to potential customers and the city administration and to participate in sustainable development programs, thus maintaining a clean environment. At DPDgroup, we believe that "we all share the #SameAddress", so we need to protect the planet, our common home." says Igor Jakovljević.
More about the vision of "Green Delivery": https://www.dpd.com/si/sl/o-dpd/trajnost/.
DPD Slovenia
DPD in Slovenia is part of DPDgroup (GeoPost), the largest international parcel distribution network in Europe. DPD, Chronopost, SEUR and BRT are the delivery experts coming together as DPDgroup. Group has 75.000 members, and a strong international network enables us to efficiently exchange experiences and knowledge. DPDgroup combines innovative technologies and local experience to deliver the most convenient and efficient delivery solutions to both senders and recipients. DPDgroup delivers more than 5.3 million parcels a day in more than 230 countries. Sending and receiving parcels is extremely easy, wherever our customers are.