20. November 2019 | Update
Remmers and DPD lauch a new era with Priority parcel shipping
The firm of Remmers, a building materials technology specialist with international operations, is increasingly focusing its logistics operations on maximum consignee satisfaction. In this context the DPD parcel service, which has been shipping parcels in close cooperation with the consignor for over 15 years, is a tried-and-tested partner. With the DPD Priority product the partners are now entering a new era when it comes to ensuring the highly reliable delivery of goods within 24 hours from receipt of order.
"With DPD's Priority shipping we are using a service which is tailored more precisely than ever to the requirements of our 24-hour logistics concept."

Ingo Fuchs, Production and Logistics Manager at Remmers
"With DPD's Priority shipping we are using a service which is tailored more precisely than ever to the requirements of our 24-hour logistics concept," explains Ingo Fuchs, Production and Logistics Manager at Remmers. "The constant interaction with our logistics partner over recent years has meant that our internal company processes are perfectly coordinated. Our customers benefit from this first and foremost – for example in the form of highly convenient ordering deadlines for the dispatch of goods the very next day."
Andreas Reß, Chief Sales Officer of DPD Germany, adds: "With DPD Priority we are closing the gap for our customers between reliable standard shipping on the one hand and our express products on the other. If the customer's top priority is a 24-hour delivery time, we are happy to ensure this at a very high service level. An important requirement for this is precise operational interlocking, which is implemented in an outstanding way by the logistics experts at Remmers".
At Remmers, high-performance and efficient logistics have been among the company's core competencies for years. As early as 2013 the company received the European Award for Logistics Excellence from the European Logistics Association (ELA). An example of this is the switch from decentralised, fragmented distribution warehouses to a small number of regional warehouses and a state-of-the-art central warehouse at the company's HQ in Löningen, Lower Saxony.
"It's extremely important for us to see logistics service providers as sparring partners with whom we can jointly reach a new level by mutually encouraging and challenging each other. DPD is a good example of this, adapting to our individual needs wherever possible. At the same time they show us how we can, for example, integrate even better with DPD's parcel network in the further development of our IT interfaces".
Remmers operates internationally in the field of building materials technology and is based in Löningen, Lower Saxony. The family-owned company offers a range of products for the construction supply sector, in particular wood paints and varnishes and industrial coatings. With a workforce of 1,500, the company also develops and produces chemical building products for cellar waterproofing and facade repair, concrete repairs, industrial floor coatings as well as wood paints and varnishes for furniture, wooden window and door production, along with industrial varnishes for other sectors and applications. In Central and Eastern Europe Remmers is represented by 15 independent subsidiaries and sales agencies in over 30 countries. In 2018 the company generated revenues of more than 335 million euros.
Carbon-neutral and digitally controlled parcel shipping
Remmers and DPD are continuously developing their partnership. Aspects such as climate protection and digitalisation have also gained in importance in recent years. DPD now transports all its parcels in a completely carbon-neutral manner and relies on a combination of three interlocking principles: measuring, reducing and balancing. DPDgroup is the industry leader in the voluntary offsetting of emissions which damage the environment, offsetting almost one million tonnes of CO2 equivalents last year. This means that DPDgroup is responsible for almost 3 per cent of all voluntarily offset CO2 emissions in Europe. At the same time CO2 emissions per parcel are falling continuously.
In recent years digitalisation has been instrumental in taking the customer experience of parcel delivery to a new level, thanks to maximum transparency and flexibility. One example is the Predict service, with which DPD reliably predicts the delivery time for all parcels to within 60 minutes. This is not only very helpful for private consumers, but also for many commercial consignees – for example on construction sites without a regular incoming goods department. DPD offers a high degree of flexibility with a wide range of delivery options that can be selected by app, for example. Among other things it is possible for consignees to postpone the delivery date or redirect parcels to one of DPD's 6,500 Pickup parcelshops throughout Germany. Alternatively they can also issue a deposit okay, for example.
DPD Germany is part of the international DPDgroup, Europe's second-largest parcel service network. At 78 locations throughout Germany, 9,500 depot staff and 11,000 delivery personnel are in daily operation on behalf of customers. The No. 2 on the German parcel market transports around 375 million parcels a year.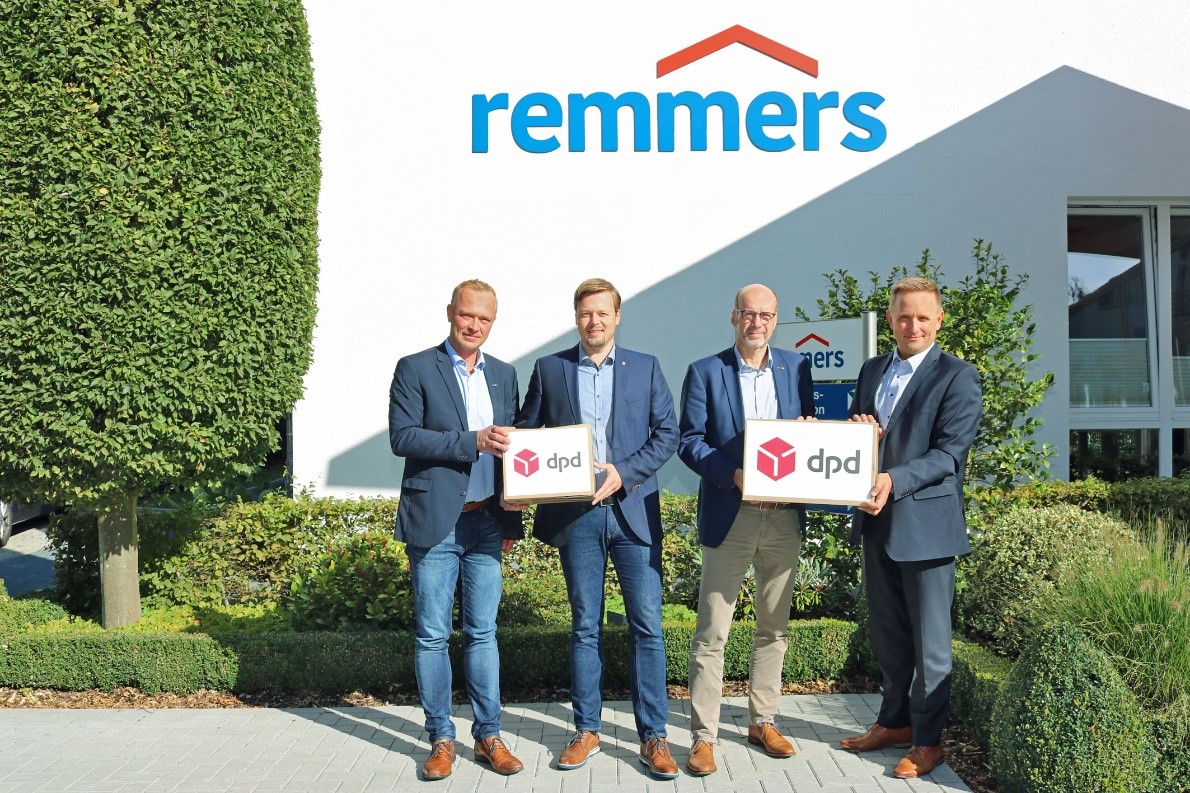 Image: Remmers and DPD have been working together successfully for more than 15 years: (from left) Klaus Korfhage (Head of Transport Logistics at Remmers), Jan-Hendrik Voss (Head of SCM and Logistics at Remmers), Ingo Fuchs (Production and Logistics Manager at Remmers) and Kai Rietenbach (Cluster Sales Manager at DPD Germany).