13. March 2019 | Update
Intuitiv, responsiv, Single-Sign-On: Relaunch von dpd.de setzt neue Maßstäbe im internationalen Paketmarkt
New website of DPD Germany bundles all online services relating to sending, receiving and returning parcels

One login for all applications: single sign-on makes it even easier to use DPD's online services

The DPD Parcel Navigator becomes myDPD: the central online portal for managing and tracking parcels – for both major customers and private consignees
Aschaffenburg, 13 March 2019 – With the relaunch of the dpd.de website, international parcel and express service provider DPD Germany is setting new standards on the international parcel market. The completely revised and epanded website is the central point of contact for all requirements relating to sending, receiving and returning parcels. All central online platforms are integrated into dpd.de via a convenient single sign-on. This also applies to the myDPD online portal, which now integrates all the functions of the DPD Parcel Navigator. From private consignees to key accounts, all target groups can conveniently manage, track and send their parcels on myDPD. Thanks to its intuitive and responsive design, the website can be used conveniently on all digital devices and its display is automatically optimised for the individual device.
"With the relaunch of dpd.de as the best website on the market, DPD is further expanding its role as a digital pioneer in the parcel industry," explains Michael Knaupe, Director Customer Experience & Communications at DPD Germany.
"As our digital business card, we have aligned our new website to the needs of our shippers and consignees more consistently than ever before. We have fully exploited the digital possibilities on the basis of the latest technological standards. We have also built on the success factors of the DPD App, which offers consignees and shippers an unmatched customer experience and has already won 13 innovation awards in four years."

Michael Knaupe, Director Customer Experience & Communications at DPD Germany
The dpd.de website is, alongside the DPD App, one of the most important channels in DPD's digital customer journey. DPD expects more than 30 million page views per month for the new website and the associated online applications. In 2018, a total of 367 million page views were generated on the existing sites. The DPD app is one of the 40 most frequently used productive apps in Germany (iOS), and recorded an additional 104 million hits last year.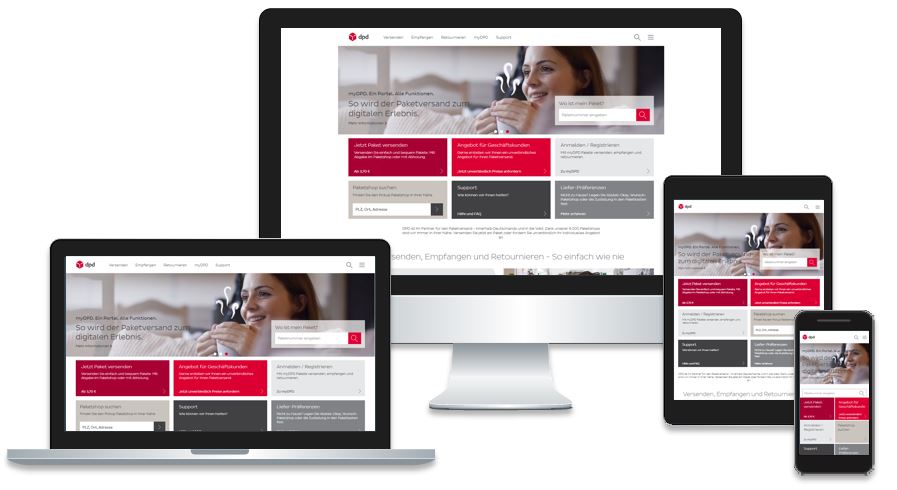 The new website is clearly structured according to the main needs of the various user groups: sending, receiving and returning parcels. These navigation points are supplemented by an extensive support area. The previous separation of non-business and business customers has been replaced by an intuitive menu that takes visitors quickly and directly to what they are looking for. An emotional visual idiom, the personal approach to users and an extensive use of moving images ensure that all content is presented in a way that is both appealing and user-friendly. Due to its responsive design, the website automatically adapts to the smartphone, tablet, laptop or desktop PC - depending on the individual reading habits of the user.
A well-organised corporate section provides information on exciting topics such as innovations, city logistics and e-commerce - supplemented by a Newsroom with the latest news, new videos and interesting background information on the world of DPD.
Innovative portal with single sign-on: the DPD Parcel Navigator becomes myDPD
The online portal myDPD is also being relaunched as an integral part of dpd.de: DPD now offers an innovative portal for bundling all central online applications for sending, receiving and returning parcels. This creates a uniform digital customer experience for all target groups: With immediate effect, private consignees and shippers with occasional parcel volumes who were previously able to manage and track their parcels using the DPD Parcel Navigator are now also included in myDPD. The relevant functions are all grouped in myDPD - flexibly, personalised and intuitive.
DPD's customer experience for consignees, which is unmatched on the parcel market, is accordingly now also available on the new pages of myDPD - first and foremost this includes map-based live tracking, a delivery forecast which is accurate to one hour and DPD's flexible delivery options. More and more consignees are using DPD's digital services: the app and the Parcel Navigator have around 26 million active users every year. The flexible delivery options were used almost 10 million times last year, and 1.5 million users have already signed up to register their individual parcel delivery preferences. The possibility of providing a digital service rating was used 2 million times, with users giving parcel shipping with DPD 4 out of 5 possible stars.
Whether private consignee or large-scale shipper: a single login is sufficient. The single sign-on for the new myDPD site provides access to all important online applications for sending, receiving and returning DPD parcels. Thanks to the central dashboard, users can see the most important functionalities at a glance and have individual access to all the information they need.
In terms of design and usability DPD Germany was supported by Computer Rock, while the IT infrastructure around the new website was provided by an international development team led by DPDgroup with its HQ in Paris.
Breaking new ground – internationally, too
dpd.de is setting a new benchmark on the parcel market - and is also a pioneer within the international DPDgroup: Germany is the pilot country for a completely new website landscape within the group. At the same time as the new dpd.de website, the international portal dpd.com will also be launched in a completely revamped design. Further countries in the European DPD network will follow one after the other.