23. January 2023 | Interview
DPD "Future Talk" - the fifth episode
In our " Future Talk" series we talk about the future, whether it's in the area of city logistics and sustainable mobility, digital solutions, forward-looking delivery processes or innovative product developments. Once a month we ask our experts in various business disciplines what the future looks like for them. What is their vision for the year 2050? And how do they aim to realise it?
In the fifth episode we talk to Birgit Winter. Birgit is a Senior Expert Social Projects and a member of the Board of the DPD Foundation.
Three questions for Birgit Winter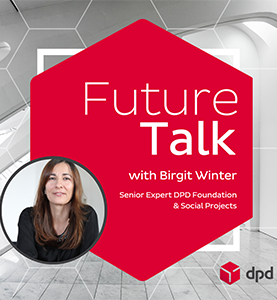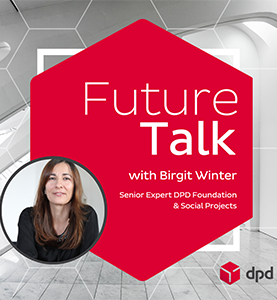 Three questions for Birgit Winter
.
For me the future represents …
… actively helping to shape the necessary transformation towards a world in which all life on our planet is treated with care, dignity and respect, in which every child is given an equal opportunity to receive an education, and people no longer suffer poverty but can develop in good health and an atmosphere of freedom.
.
For the year 2050 I would like to see …
… that individual social commitment is supported by intelligent cooperation between the worlds of business, medicine and politics to ensure the social and ecological conditions for a just future which is worth living.
What are we doing to achieve this?
At DPD social responsibility is firmly anchored in our corporate strategy, and is put into practice every day. To consolidate our activities, a separate DPD Foundation was established in 2016 with the focus on the following initiatives:
Our DPD Relief Fund supports all members of the DPD family who are in need through no fault of their own.

Through project funding with Plan International and other partners, we concentrate our worldwide commitment to not-for-profit and charitable projects for the benefit of people in need, promote educational projects for children and young people and support sustainable agriculture.

Our trainees get involved with children in Africa, Asia and Latin America through the sponsorships of the children's aid organisation Plan International.

Involvement projects at DPD: Our staff are wholeheartedly committed to social causes and projects every day. We promote this commitment through our involvement projects, such as the "Rest Cent" or "Volunteers' Days" initiatives - read more at: https://dpd-stiftung.de/
---