4. September 2023 | Interview
DPD "Future Talk" - the ninth episode
In our " Future Talk" series we talk about the future, whether it's in the area of city logistics and sustainable mobility, digital solutions, forward-looking delivery processes or innovative product developments. Once a month we ask our experts in various business disciplines what the future looks like for them. What is their vision for the year 2050? And how do they aim to realise it?
The ninth episode is answered by Oliver Rosier. He is Group Manager Sales International
at DPD Germany

Three questions for Oliver Rosier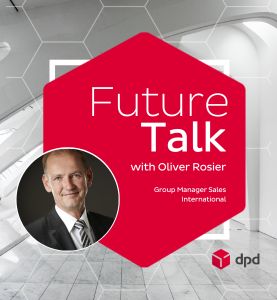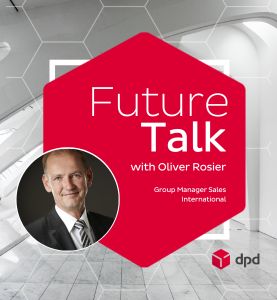 Three questions for Oliver Rosier
.
For me, the future is ...
... closely linked to the conviction that cross-border online trade - also called cross-border e-commerce - will continue to gain in importance due to the strongly increasing globalisation of society. This is also confirmed by current figures: According to a forecast by Statista, the worldwide market for cross border B2C e-commerce will have a volume of around 800 billion US dollars in 2022. This value is expected to increase continuously in the coming years and reach over 5 trillion US dollars in 2030.
In the year 2050, I would like ...
... that it no longer makes a significant difference in terms of service quality and reliability whether I as a customer want to send a parcel within Germany or across borders. How is this possible? With a clear vision and the willingness to continuously invest in innovation and technology.
What do we do for this?
At DPD we are driving internationalisation forward in leaps and bounds. With the DPD CLASSIC shipping option our customers can already send their parcels to over 220 countries. Thanks to the excellent Predict service we can tell parcel recipients in these countries on the day of delivery exactly when their parcel will arrive. With Live Tracking, the time window is even updated to within 30 minutes in the last hour before delivery. This brings us one step closer to my wish for the year 2050.
---